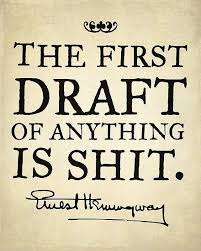 Revision, taking another look and polishing your writing. Here's what the Mavens have to say– from what it involves to when to stop:
Judith Ross Enderle: This part of writing is the frosting on the cake; cleaning up the crumbs, adding swirls of sweetness, getting your masterpiece ready to present for consumption. Revision shouldn't be rushed. It may involve any or all of the following: major rewriting; moving sentences, pages, paragraphs, even chapters into a different order; tossing out some of your favorite lines; the realization that in some parts you have too much story and in others not enough; and always a careful search for repetition, double verbs, awkward dialogue tags, and phrases at the end of sentences that don't add anything to the story. If you've been away from the manuscript long enough, you may see places where you've forgotten to give the reader important information, places where you go on too long with either dialogue or description or both, places that are too slow and places that just plain don't work. Your first draft was good, but with revision your second draft will be better, and after that you will revise for the best. Some manuscripts need only one revision, while others may need five or more.
Stephanie Jacob Gordon: I NEVER REVISE said no published author ever.
I think of revision as a trick of the trade.  My trade.  Your trade.  The Writing for Young People trade.
You write your story and suggestions abound.  Everyone has a better idea.  Your agent has input.  Your editor has input.  Your writing group has input.  Your best friend, your husband, your kids, your mother, the check-out lady at the grocery store, they all want to tell you what is right AND what is wrong with your story and how to fix it.  You listen, smile, nod your head, think about what they said, good and bad, even take notes.  It is YOUR story, nevertheless.  Apply what works, clarifies, enhances and improves your work.  In the end it really is just YOUR story and you must stand behind your craft.  So, what to do with the stuff you don't need?  Shredders, compactors, garbage cans (do people still use cans?), and recycle bins were invented to hold suggestions, critiques, and opinions you do not want or need.   Hear, think, apply, but listen to your own head first!
Happy revision…or not.
Laurie Knowlton:   7 Tips to Revision, Where to Begin?
Once you have completed your manuscript it is time to revise. But how?
Read your manuscript out loud.
It will help you catch gummed up sentence structures.
It will help you listen to your character's speech for uniqueness of voice.
Check and cut: overused words, weak words, and too much description.
Check your spelling, grammar and punctuation. If you have trouble with these there are how to articles on the internet that can help.
Bring your manuscript to a critique group. Fresh eyes can help you see your manuscript in a new light.
Ask yourself does my story question match a satisfying ending?
Let your manuscript set for a bit after you have completed these steps, then go back with fresh eyes and review again.
Revise as many times as it takes to get it right. DO NOT RUSH the revisions process.
Cheryl Zach: Revision is an absolutely necessary part of the writer's process. Once the rough draft is down, if you're lucky you'll go over it and then have a critique group or partner to share it with, in person or on line. If not, put it aside for a few weeks or even months and then view it with a fresh eye.  Of course, you want the grammar and usage to be correct, allowing for realistic dialogue. Books such as Elements of Style are helpful. A lot of my revision goes into tightening. Taut writing is often most effective. Get rid of unnecessary tags, (the he said, she said bits) unless you write for the very young. Remember you want to show, not tell. Use action and dialogue, use sensory details to make the setting vivid. Let your own voice shine through. Then put it aside, and do it all again. And again.
Dawne Knobbe: Revision: You know it is time to stop revising when the words you replace are no longer making your sentences more powerful.