by Judith Ross Enderle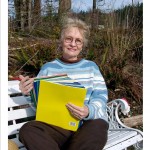 To blog or not to blog. That was the question when five children's book authors met this past May at a private writers' retreat in Ohio.
Though everyone thought a blog was a good idea, no one had yet felt she had the time to devote to a solo blog, especially when added to all of the social media we were already committed to visiting frequently. Oh, yes, and then there was the time needed for writing. And we are all writers. But the idea of a blog wouldn't leave us alone so we decided to blog together.
First we worked with lists of potential blog names. Some had already been taken. Some didn't meet the approval of all of us. Some were just plain silly. What would represent all of us? Our goal was to share our love of books, their creation, and more. We wanted to explore our experiences as authors, pass on writing tips, and celebrate our enthusiasm for the written word. Together we had a huge range of experience in the children's literature arena. And so we chose to call our blog KidsBook Mavens.
We are published picture book, middle grade, and YA authors. We have written for magazines and children's television. We include freelance editors and a small, independent publisher. This makes us Mavens: authors who are experienced and knowledgeable.
While each of the Mavens will introduce herself, I will tell you that We Mavens have a long history as friends and writing associates. Let me introduce myself: Judith Ross Enderle. My friends call me Judy.
I'm the daughter of a 100 year-old plus man who visits the library every three weeks. My mother was a teacher with a major in English. Reading and writing are in my genes.
One of my early books was a teen romance, S.W.A.K. Sealed With A Kiss. It made the New York Times Besteller List. Recently I reread this book. How my writing had changed!
My daughter, Monica Enderle Pierce, is now an author. Her first adult novel, GIRL UNDER GLASS was released about six weeks ago. It's an e-book and has garnered four and five-star reviews thus far. Reading and writing are in her genes, too. I'm a proud mama.
And I am half of a writing team. The other half, my best friend Stephanie Jacob Gordon, will introduce herself when it's her turn to blog. We write picture books like Two Badd Babies (Boyds Mills Press) published as Jeffie Ross Gordon and Smile, Principessa! (Simon and Schuster, eBook). I met Stephanie in a writing class at UCLA. Our teacher was Eve Bunting. We also studied with Sue Alexander. Though we've been published individually, more often we've chosen to write together. Current projects include: All the Never Nevers, a middle grade novel about grief, bigotry, and magic. This manuscript is now circulating. And heading off to our agent this week:  Shagaman an adventure/mystery short chapter book set in 1906 California, based on the bigfoot legend. Of course, there are more books in development.
Please watch for KidsBook Mavens' scheduled posts the second Wednesday of every month. Don't be surprised if some of us slip a few other posts in between, when we have something we want to share.  Welcome to our blog!