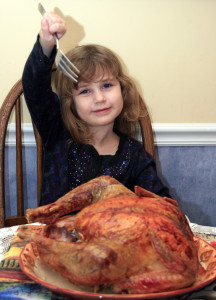 Tick tock, tick tock. Turkey time is closing in which makes one pause to count blessings. It's a time to give thanks or Thanksgiving.
I am thankful for family, friends, the beauty of the world out my window, the energy to dig in my garden, the ability to write, the patience of my critique group and my agent, the joy of living to see another birthday. (I am a turkey baby!)
I am thankful, full of thanks. And that word got me thinking (which can sometimes be a dangerous thing).
If thankful always means full of thanks, why doesn't awful always mean full of awe? It can mean that, but not always. Then there's grateful, which doesn't mean full of grates, but is derived from the Latin gratus. Another word tied to gratus is the word graceful, which means pleasing form or movement and not full of God's grace. The word grace has a nice paragraph in my Webster with eight definitions and several sub definitions.
It was fun perusing the —ful words. Check out baleful, which has nothing to do with hay. There's more than one kind of bale. Gleeful, woeful, helpful, sorrowful, eyeful and earful, tearful and cheerful and more.
So, here's a blogful for this month. Have a turkeyful, pieful Thanksgiving.
P.S. For those of you making Christmas lists, check out Twelve Days of Christmas Starring Chickens, by Janet Lee Carey and illustrated by Molly Blaisdell. Lots of zany chicken fun starting with a penguin in a pine tree.