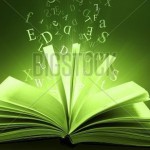 MAGIC can happen when you clean your office or your desk or your garage files, or when you go through your computer documents.
The magic is in rediscovered manuscripts that you abandoned or that were rejected. (Even happens to famous authors.)
You may be surprised at how good the manuscript was and still is. Perhaps it was rejected because the timing wasn't right (YA wasn't selling; yes, there was that time) or there were too many books about . . . or no one was interested in American History (and now there's a children's book award for this very thing). Whatever the reason, you abandoned the manuscript.
But another look, fresh eyes, more experience as a writer can make a difference. Old manuscripts can be revived, reborn, become new and better.
As you sort, start a possibility file. And, when you are ready, analyze one or more of these abandoned manuscripts. Ask yourself:
Would the title tempt me to take this off the shelf?
Does the story need to start in a different place or time?
Did I pick the right main character? Did I choose strong names?
What if I changed past tense to present tense or vice-versa? Same with first or third person.
How much do I read before my mind wanders? Why?
Is the pacing off with too much time getting started, a slow middle, an ending that happens too quickly?
Do all the characters sound alike?
Does the main character solve the problem? Is there a problem?
Do I even care about the main character? Why or why not? Is there a reason for every secondary character to be in this story?
Are there sensory details? Is the story grounded?
Will today's kids want to read this story if I revise it?
While much of this applies to novels, take another look at picture books and nonfiction manuscripts and all of the writing you've tucked away in boxes, bins, drawers, and on your computer. Maybe you didn't have enough for an illustrator to work with in those picture books, but they might be magazine stories. Maybe you need to update your research for that nonfiction project and find out how it fits in the school curriculum. Perhaps it can be made more reader friendly.
Whether you are moving to a new home or doing spring cleaning or just procrastinating about your current writing project, dig deep. You never know what magic might be waiting.