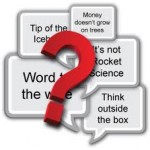 I am Queen of the cliche'. I worked in advertising as a Copywriter and Creative Director.  Using snappy sayings and refurbishing cliche's was a big part of the business, so I am always tempted to use them.  My writers group also knows that I am very good at spotting those sneaky ones and most often suggest rephrasing the line.
But what exactly makes a phrase a cliche' you ask?
It's very simple, over-use. In the beginning the expression was probably regarded as clever and unique—so much so that it started getting repeated, and just like the Faberge shampoo commercial …I told to friends about it, and they told to friends and so on and so on and so on! The phrase took on a life of it's own loosing it's originality and depth of meaning.  In the words of  French poet Gerard de Nerval: "The first man who compared a woman to a rose was a poet, the second, an imbecile."
 So why shouldn't you use cliche's?
They are no longer interesting or very effective, and of course, they show a lack of originality. Of course ,sometimes they work in dialogue or in special circumstances but, generally your unique descriptions will have far stronger effect on your reader.
 Is it easy to fix cliche's?
Once you have identified a cliche' try to change it so your reader will feel what you are trying to express. A thesaurus can help. Look up the action words and try to replace them. Dive into your characters head and choose words she would use from her environment and sense of the world.
 Example:
Cliche': She avoided Anna like the plague
Instead: She stepped off the path every time she saw Anna coming; the blackberry thorns were a better friend.
 Are you up to the Challenge?
Now you know how to avoid them, let's have a little fun. Do you have a few favorite cliche's? Here are a few of mine strung together.
Cliche's are about as useful as a lead balloon. They bug the heck out of me, so don't be all talk and no action.You may have to work like a horse to weed them out of your writing, but at the end of the day when the eraser dust has  settled, it was all in a writing days work!
(I showed you mine, now you show me yours.)