BY Judy Enderle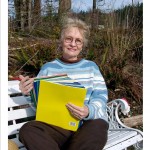 One way authors create character is through word choices. For example, Who would use a word like harbinger? Katniss Everdeen? The Cat in the Hat? Winnie the Pooh? Captain Underpants? Harry Potter? The main character in your story?
When you first start writing for publication, you think: If only I could get this one book published. When you have been publishing for awhile, you think: If only I could get this next book published.
Author Sid Fleischman always gave good advice. One tip he shared proved so true. "Never throw anything away. If you cut scenes or information from your work, put those parts in a doggie bag." Doggie bags might contain future magazine stories or nonfiction articles, picture books, sequels, or new novels. Does your computer have a doggie bag file as well as an idea file?
If there are topics you'd like the Mavens to address, let us know, please. The other Mavens will Meander when inclined or when avoiding writing or instead of cleaning the office or . . . .
Happy Writing, Everyone!