by Judith Ross Enderle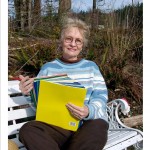 IDEA! In fact, I have a gazillion ideas. When the writing muse flies over, she scatters idea seeds that sprout like Washington mushrooms, and I gather them. Some I place in my computer Idea File in categories like Novels, Picture Books, Magazine articles, and Miscellaneous. I've had ideas arrive as titles or as characters. Some get expanded into outlines or synopses. Some have only a paragraph.
Other ideas live in my office closet. In a red storage bin, there's a plastic idea box. The lid no longer closes. The bin holds not only that box but also scraps of paper, index cards, napkins, bank deposit receipts—all with ideas jotted across them: titles, characters, or what-if questions. Ideas and more ideas all hoping to become stories.
I've noticed that ideas sometimes present themselves when I'm focused on the routines of life. My morning starts with cereal and the local paper, where ideas jump off the pages. Some ideas find me when I walk in the neighborhood, pull weeds in the garden, grocery shop, or take a shower. In a restaurant or in a checkout line, snippets of conversation might contain ideas for characterization or even a hint of plot. (Perhaps I should put Author and Eavesdropper on my business cards.)
The muse has been known to slip ideas into my brain at night, as I settle into bed. On a recent wintry evening, as I pulled the covers up chin high, a title popped into my brain: PURPLE SNOW. This idea arrived with a couple sentences: Ever since preschool I've always been the first one in my classroom in the morning. Until today. Immediately my brain started with the WHO? WHEN? WHERE? WHY? and more. NAMES? AGES? DO THESE SENTENCES HINT AT THE PROBLEM OR NOT? All hard to answer because I don't know the characters or the problem yet. What does purple snow have to do with this story? I don't know that, either. But I suspect I'll find out.
PURPLE SNOW is one of those ideas that's sticking with me. Those are the ones that demand attention, insist on being written. They never let go. I have several in files on my desk right now in various stages of growth. They can get downright obnoxious, intruding when I'm reading or working on something different. They refuse to go away, to be quiet, to behave and wait their turns. They will not go in the closet with the patient ideas.
Most amazing is when I'm visiting my writing partner, Stephanie Jacob Gordon. We can't travel anywhere together without ideas pouring forth. And it's not unusual for the phone to ring and for Stephanie to say: "Listen to this" followed by an idea or two or three. Two heads do have more ideas than one.
Are you bombarded by ideas? How do you store, handle, sort them? How do you choose the one to write next or does it choose for you? And what do you say when someone asks: "Where do you get your ideas?" I usually say: "They come from everywhere."